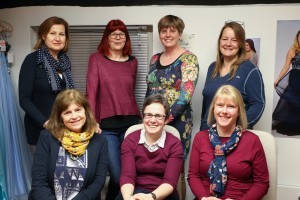 Two years ago, a diverse set of business women were united by Chris Leighton, a Southampton-based Get Mentoring mentor and coach who runs Zeal for Business. Together, they've turned enterprise mentoring into a group activity, with exceptionally successful results. One of the mentoring group, Sally Brown of The Happy Bee Company took time out from running her natural cosmetics company, to tell us how the mentoring collective have helped one another to success.
How can women running businesses operating in areas as diverse as prom dress hire, handmade cosmetics, bookkeeping and photography support one another to steadily develop all seven of their businesses? That's the question we put to Sally Brown, the 45-year-old owner of The Happy Bee Company, which produces lovely skincare from a Norfolk bee farm. In essence, she explains, it's all down to her one-time mentor Chris Leighton who realised that if she united a number of the women she was mentoring they'd be able to help each other and pool both their experiences and their support. Sally remembers how it all began:
"Chris created the Action Learning Set (ALS) for us, which became our monthly meeting. If one of us has an issue in our business we use the ALS agenda to really pull the problem apart. Together we can look at the problem, analyse it and come up with suggestions. The person with the issue then chooses her own course of action, and the following month she reports back."
The women, who all work in around a 40-mile radius, started meeting around two years ago. Chris had handpicked them as people who weren't at the very beginning of their enterprise journeys but rather a year or more into them. As well as Sally, there was Lucy Kayne (a photographer), Dee Youngman (an accountant), Kim Bryant (an HR professional), Debbie Roberts (a graphic facilitator), Anne Gillion (an artisan food expert) and Hazel Hallett (a fashion retailer). As well as being at similar stages in terms of getting set up, it was significant, and deliberate, that they also had their gender in common, as Sally outlines:
"When we first started I think it was important that we were all women. For the first year Chris chaired the meetings, then she stood back and we continued to meet. There was a camaraderie to us all being female, a sense of mutual support. I think if men had been there it would have changed the dynamic."
In fact, the women have now grown in confidence and have recently decided to welcome their first male member into the group. The issues the women share can be as simple and as general as 'how do I make my business work?' Having asked this question, the group will brainstorm ideas, exploring from every angle to help an individual find their way. But sometimes, the issues are more specific, as Sally explains:
"Someone might say 'what can I do to boost customer numbers?' Together, we may look at a business's structure, the selling platforms it uses or other specific areas."
Sally's own business had been up and running for around 18 months when the group formed and she was facing some serious make-or-break issues, as she remembers:
"My business was limping along. It wasn't doing what it should have been doing. I went to the group and they helped me to re-cost everything. They asked me to breakdown exactly how much it costs to manufacture a hand cream; they asked how much each ingredient cost, how much did I pay for the containers etc. Then, together we worked out what my pricing needed to be for me to get on-track."
Sally has also called on the group for moral support and even took two of the other members along with her to a meeting to secure a contract with business angels.
"I took Dee, who runs a bookkeeping business, and Kim, who has a business in HR, along with me and I'm so glad I did. I was a nervous wreck but there were three of us to two of them and I managed to get the investment I needed. Dee and Kim have skillsets that I just don't have, which they willingly shared."
This skills sharing is very much part of the group's ethos. One member, Lucy, as a professional photographer can bring web skills to the group, while Sally herself is a good problem solver. Sally credits the group with saving her business, as it was through the group mentoring that she came to radically alter the way she took her products to market. She says:
"Originally I was trying to sell at craft fairs and to small shops but it was a lot of hard work and it just wasn't happening. I was lucky because those two investors I had won through the support of the group told me I needed to sell on Amazon, which is what I've been doing for the last five months. The change and the difference to my business has been phenomenal."
In fact, the improvement in The Happy Bee Company's fortunes has been so great that Sally has been able to give up her full-time job as a functional skills tutor and focus on the business. She says:
"I feel like I'm swimming without armbands for the first time! Although my business is still small and I'm growing it very slowly and organically, it can now pay me a wage I can actually live on and I'm turning a profit. In large part that's down to my mentoring group."